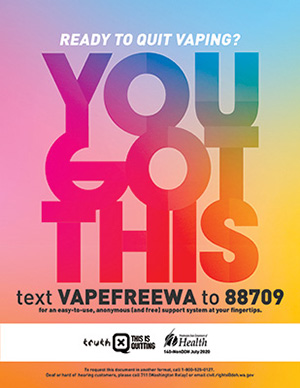 How well does it work?
Since January 2019, TIQ has enrolled more than 200,000 teens and young adults nationwide. More than half of users report that they had reduced or stopped using e-cigarettes after just two weeks of using the program.
How can young people join?
It's super easy. If you live in Washington and are between the ages of 13-24, just text VAPEFREEWA to 88709. You can also visit thetruth.com to learn more about the award-winning truth campaign.
I don't vape, but I know a young person who does. How can I learn more?
You can read more about TIQ here or text QUIT to 202-899-7550 to receive text messages designed specifically for parents of teens and young adults who vape.
How can I promote the program?
Download, print, and display flyers in your community:
Download and share the following images on social media:
What else can you tell me?
Washington residents can also:
Download a free smartphone app to help with quitting. If the language on your phone is set to Spanish, the app content will automatically translate into Spanish.
Talk with a Quit Coach for free by calling 1-800-QUIT-NOW, texting READY to 200-400, or registering online at quitline.com.
Learn about medication, like nicotine replacement therapy, which requires a prescription if you're under 18.
Also, you've probably heard that you now need to be 21 to be sold tobacco and vapor products. Learn what 18-20 year-olds should know about Tobacco & Vapor 21 (PDF).