Image

Image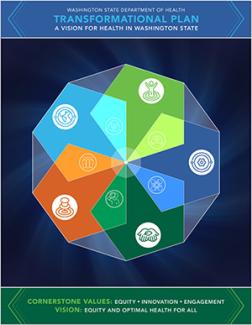 View the plan in other languages:
The Washington Department of Health's (DOH) Transformational Plan: A Vision for Health in Washington State, reenergizes our commitment to health for all — creating policies and conditions so everyone can live their healthiest lives. We cannot embark on this journey alone. We must collaborate with communities, community-based organizations, local public health entities, governmental partners, health care providers and systems, the private sector, Tribal Nations, and many, many more. Infusing our agency's values into how we transform our services, go about our activities, and strengthen our core work, is critical to the bright and robust future ahead.
We know our cornerstone values of Equity, Innovation, and Engagement (EIE) are key drivers in shaping our future. Our vision for each strategic priority is the "what" we are striving for and key examples of the "how" we will do our work are reflected in our transformations in action. While this is not an exhaustive list of everything we currently do or plan to do, it does provide our roadmap for how and where we prioritize our efforts. Additionally, it boldly positions our agency for the ever-changing future already upon us!
For further information or to provide your insight, feedback, and thoughts on this plan, please contact the Executive Office of Policy, Planning, and Evaluation. You may reach them, at OPPE@doh.wa.gov.
---
Previous Plans
Information Technology Strategic Plan
The Information Technology (IT) Strategic Plan supports and contributes to DOH's mission by identifying the highest priority efforts that skilled IT staff and business-driven services will focus on during the next year.
Internal Links