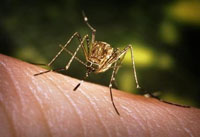 Not only a nuisance, mosquitoes can pose a serious health threat to people. Disease can be spread to people through the bite of an infected mosquito. Over 40 different mosquito species can be found in Washington, and many are vectors for diseases, such as West Nile virus, western equine encephalitis, and St. Louis encephalitis.
In the past, sporadic outbreaks of western equine encephalitis and St. Louis encephalitis had occurred in Washington afflicting hundreds of people. These mosquito-borne disease outbreaks prompted the development of many mosquito control districts in our state. Today, with the emergence of West Nile virus, mosquito control and bite prevention remain key in protecting public health.
Mosquitoes can also spread Zika. Only two types of mosquitoes, Aedes aegypti and Aedes albopictus, are known to spread the virus to people. These mosquitoes are not found in Washington. Learn how you can help watch for the arrival of these invasive Aedes mosquitoes (PDF) and stop their spread in your community.
Protection
The best way to protect against mosquito-borne disease is to prevent mosquito bites. 
Avoid Mosquito Bites
Make sure windows and doors are "bug tight." Repair or replace screens.
Stay indoors from dusk to dawn, if possible, when mosquitoes are the most active.
Wear a long sleeve shirt, long pants, and a hat when going into mosquito-infested areas, such as wetlands or woods.
Use mosquito repellent when necessary. Read the label and carefully follow instructions. Take special care when using repellent on children.
Don't Give Mosquito a Home
Empty anything that holds standing water - old tires, buckets, plastic covers, and toys.
Change water in your birdbaths, fountains, wading pools and animal troughs at least twice week.
Recycle unused containers that may collect water - bottles, cans, and buckets.
Make sure roof gutters drain properly and clean clogged gutters in the spring and fall.
Fix leaky outdoor faucets and sprinklers.
Support Your Community
Resources
West Nile Virus Education and Media Materials
Bti (Bacillus thuringiesis israelensis)
Distribution of Mosquito Species in Washington (PDF)
West Nile Virus: Mosquito Control, CDC
West Nile Virus: Insect Repellent Use & Safety, CDC
Choosing and Using Insect Repellents, NPIC
Content Source: Zoonotic Disease Program