Service Interruption Notice
The Center for Health Statistics has significant delays for custom data files and research requests. Standard data files are currently available to order with a valid DSA.

If you have questions, you can email CHS.DataRequests@doh.wa.gov. Normal turnaround times are delayed.
Important Note: A vital records law and rules are in effect that changed the requirements for requesting vital records data.

For increased security of personal and sensitive information, a data sharing agreement (DSA) is required for all vital records data, including death data. There are fees for data files, analysis, and data requests. Each application will be reviewed and vetted for compliance to laws and regulations. Sample Data Sharing Agreement.
Government agencies and Tribal governments may receive birth and fetal death record data with direct identifiers for non-research public health work by signing a DSA.

For more information, visit the Data Request FAQ page.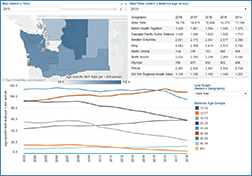 The Department of Health is transforming how we present data. We want to provide the public with information that is easy to interact with and easy to visualize. We created visualization dashboards that allow users to:
Interact with charts, maps, and graphs
Export the data as a spreadsheet.
Note: The Center for Health Statistics will no longer update Washington State resident birth Excel tables. We now display the Excel table information on the data visualization dashboards.
The Department of Health collects information on pregnancy and delivery in Washington State from birth certificates. Information is used to calculate birth rates, fertility patterns, and maternal and infant health characteristics. These can be examined by a variety of information including maternal and paternal demographics, delivery method, length of gestation, birth weight, and plurality.
How to purchase files
These are record level data files. Working with these data files requires use of spreadsheet, database management, or statistical software that are not provided. A Data Sharing Agreement (DSA) is required to access all vital records data. Sample Data Sharing Agreement
A DSA documents the conditions under which the Department of Health shares limited datasets containing potentially identifiable information with outside entities. By signing the DSA, the recipient(s) of the data agrees to not link information with any other information that could identify an individual or use the information to contact any individuals. Data may not be disclosed unless agreed upon in the DSA.
Data Files available for purchase
Birth Statistical Files (1980 to 2021)
Medical and statistical information from the birth certificate about the mother, father, newborn, and the delivery. (Birth weight, pregnancy history, prenatal care, smoking status, method of delivery, and risk factors in pregnancy etc.).
Data Dictionary 1980-2016 (Word)
Birth Statistical File - Data Dictionary and Crosswalks (Excel)
Birth Data File Technical Notes - A Data User's Guide (PDF)
Vital Statistics Technical Notes (PDF) provides more information about all vital statistics data, including data quality and recommended uses.
Overview Table (Excel) provides a historical context for interpreting vital statistics in Washington State from 1910 through 2020. This table shows live births, deaths, infant deaths, and fetal deaths for Washington residents.
Data Tables
Birth data tables have been discontinued since 2016 and replaced by interactive dashboards. Some tables have been removed due to the need to suppress small numbers per DOH guidelines.  All remaining tables will be retired on or about July 1, 2022.
Birth Tables by Topic - Includes information on birth categorized by demographic, behavioral, health, and health service characteristics.
Sign up for email notifications
Sign up for email notification for notification of data file availability and updates.
Our office has these topics: CHARS Data Users, Vital Statistics Data, and BRFSS Data Users.
Links