Fetal deaths occur when a fetus has reached 20 or more weeks of gestation but dies before birth due to natural causes. Infant deaths are deaths to infants live born and less than one year old. Fetal and infant death data come from fetal death and death certificates registered in Washington State.
Why is fetal and infant death data important?
Fetal and infant death data provide key information about maternal and infant health. They are important factors in understanding a population's overall health. Data on fetal and infant deaths help us track and understand health trends. The data highlight inequities that exist by geography, social and environmental exposures, and demographics, especially race and ethnicity. The data on fetal and infant deaths help us discover and evaluate preventive strategies to improve maternal and infant health.
It is important to understand the factors that contribute to fetal and infant deaths. Factors that can influence fetal and infant mortality rates include:
Access to medicine

Access to culturally appropriate health care

Enough food

Clean water

Safe housing

Discrimination from health care providers by race and ethnicity

Safe sleep

Exposure to harmful substances

Breastfeeding initiation and duration
Understanding these factors can help us improve maternal and infant behaviors, health care, and access to services.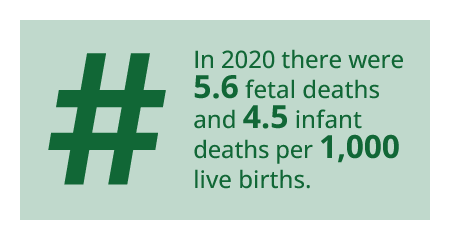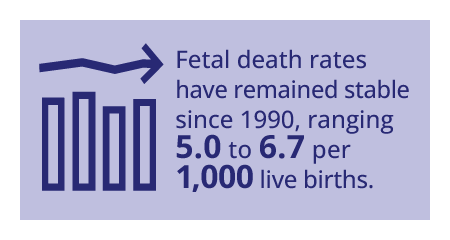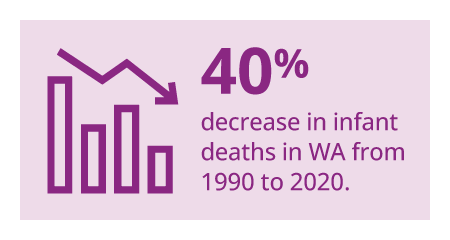 What's Here
The dashboards present fetal and infant death counts and rates per 1,000 live births that occurred to Washington State residents. They show trends from 1990 to 2020 by Washington counties and Accountable Communities of Health (ACH). The data represent all fetal and infant deaths to Washington State residents regardless of where they occurred.
View the Data
Fetal & Infant Deaths - County
Learn More
Fetal Death Data - Vital Statistics
Infant Death Data - Vital Statistics
Additional Resources
Contact Us
For information or questions related to the Washington Tracking Network, email DOH.WTN@doh.wa.gov.
Let Us Know How You Used the Data
We love hearing about how our data is being used to make an impact on the health of Washingtonians. It also helps us to know what is meeting our users' needs and how we can improve the information we provide. If you used our data, please tell us about it by sending an email to DOH.WTN@doh.wa.gov.
Would you like to receive updates?
Receive updates and information about WTN by joining our email newsletter.
Image