The Department of Health gathers information about each marriage and divorce that occurs in Washington State. The filing of marriage and divorce certificates at the state level began in 1968. 
Why is marriage and divorce data important?
Marriage and divorce data provide important information about the state of American unions.  They help federal agencies understand marriage and divorce trends and forecast future needs of programs that have spousal benefits.  They also measure the effects of policies and programs that focus on the well-being of families, including tax policies and financial assistance programs.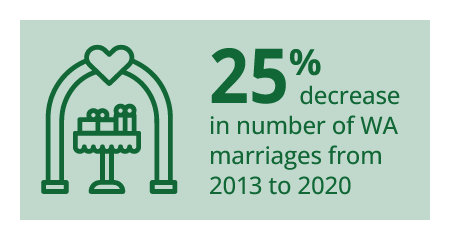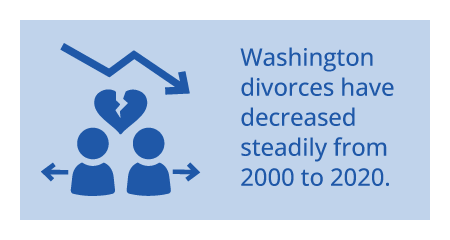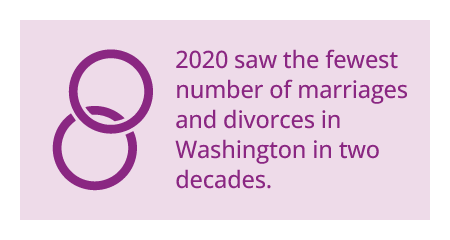 What's Here
The data in this dashboard show marriage and divorce occurrence counts and rates at the state and county level for the years 2000 through 2020. The numbers in this dashboard only reflect the number of marriages and divorces that occurred in Washington; they do not include marriages or divorces of Washington residents that occurred elsewhere.
Unions and dissolutions where the county was recorded as "Tribal Authority" are included in state totals, but not in county totals.
In 2014, 3,297 domestic partnerships were converted to marriages.  These are also included in Statewide data, but not in county totals.
View the Data
Marriage and Divorce by County
Additional Resources
Center for Health Statistics Marriage Data
Center for Health Statistics Divorce Data
Contact Us
For information or questions related to the Washington Tracking Network, email DOH.WTN@doh.wa.gov.
Let Us Know How You Used Our Data
We love hearing about how our data is being used to make an impact on the health of Washingtonians. It also helps us to know what is meeting our users' needs and how we can improve the information we provide. If you used our data, please tell us about it by sending an email to DOH.WTN@doh.wa.gov.
Would you like to receive updates?
Receive updates and information about WTN by joining our email newsletter.
Image