The Washington State Department of Health (DOH) collects drinking water test results for a large family of chemicals called per- and polyfluoroalkyl substances (PFAS). PFAS are sometimes called  "forever chemicals" in the news because they stay in the environment for a very long time. PFAS are a growing environmental contaminant of concern because some PFAS chemicals can be toxic to people and can build up in our bodies over time.
The Washington State Board of Health adopted a new rule in 2021 that requires over 2,400 public drinking water systems, also known as "Group A" systems, to test for PFAS. Testing must be completed by December 2025.  Water systems that find PFAS above a state action level (SAL) must notify their customers within 30 days, and test more often.
Why is PFAS testing Data Important?
Some types of PFAS could harm human health when they build up to high enough levels in your body. While the federal government has not finalized safety standards for PFAS in drinking water, Washington's SALs created rules to inform communities about PFAS in drinking water when it is found.
Testing results show you where PFAS have and haven't been found in public drinking water sources. They also show if the levels are higher than our SALs. Contact your water system to learn more about their response to PFAS. Some water systems have already taken steps to lower PFAS in their water.
If you are a Group B water system or a private well owner, you are not currently required by the state to test for PFAS. You can use the map to learn if PFAS have been detected nearby. This can help you decide whether to test your well for PFAS.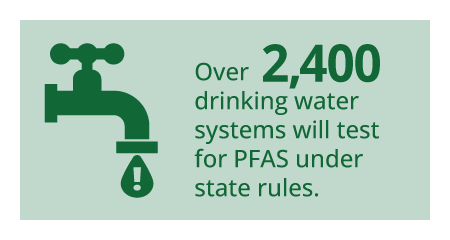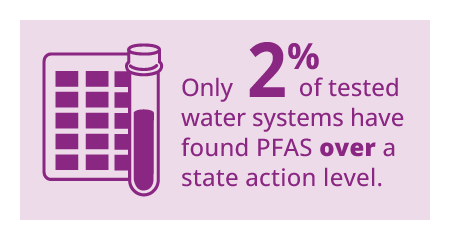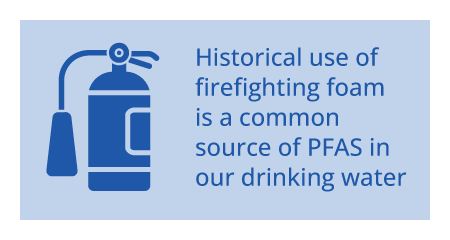 View the Data
What's Here
The dashboard shows data from PFAS water testing that is required under a 2021 state rule. Public water systems must test all active, permanent and seasonal sources of their water supply. An example of a source is a river or a lake. Sources could also be water that flows underground into something called an "aquifer."
Water is tested after all water treatments are completed (such as disinfection) and before the source water is distributed to water customers. The dashboard includes results from each source tested within a water system.  
A PFAS detection at a single source doesn't necessarily mean these levels occur across the water system or at nearby homes. If you are concerned about PFAS levels at your home, please call your water system.
Water systems must use EPA test method 537.1 (18 PFAS analytes) or EPA test method 533 (24 PFAS analytes). Results for all PFAS chemicals from the tests are included in this dashboard.
Test results are shown as a map or in the table. Click on each dot to see more information about the water system and source. The dashboard also has PFAS testing statistics for commonly asked questions.
The map can be used to:
View the most recent test results for each water system and source.

This view helps you understand current conditions in water systems, including any changes in PFAS water concentration after action was taken to reduce levels of PFAS.

View the highest historical test result reported for each source.

This view shows where PFAS may still impact a drinking water supply (such as a groundwater aquifer).

If you are near an area with a high PFAS detection, you might choose to test your water source even if you aren't required to test.
In the future, we will also include water testing data from military testing and other local testing of PFAS in drinking water.
How to Reduce Exposure to PFAS in Drinking Water
You can reduce your exposure to PFAS by installing a water filter that reduces PFAS in the water you use for cooking, drinking, and preparing infant formula. Filters come in different styles and can treat water at your kitchen sink, refrigerator, or in a countertop water pitcher. You can also use bottled water labeled as "purified" as a short-term alternative.
Taking action to reduce exposure is especially important for pregnant and breastfeeding people, infants, and young children. These groups may be especially sensitive to harmful effects of PFAS and drink more water per pound of body weight than most people.
Additional Resources
Contact Us
For information or questions related to the Washington Tracking Network, email DOH.WTN@doh.wa.gov.
Let Us Know How You Have Used Our Data
We love hearing about how our data is being used to make an impact on the health of Washingtonians. It also helps us to know what is meeting our users' needs and how we can improve the information we provide. If you used our data, please tell us about it by sending an email to DOH.WTN@doh.wa.gov.
Would you like to receive updates?
Receive updates and information about WTN by joining our email newsletter.
Image