For immediate release: November 3, 2023   (23-145)
Contact: DOH Communications
Opportunity for communities to join for animal, human, and environmental health
OLYMPIA – Today is One Health Day. One Health is a global campaign that works to protect the health of all living things by bringing people from different fields together to solve problems threatening humans, animals, and the environment. Multiple Washington state agencies, organizations, and institutions meet quarterly through the Washington One Health Collaborative to identify priority projects that improve our shared environment.
"Human, animal, and environmental health are all interconnected," said Tao Sheng Kwan-Gett, MD, MPH, Chief Science Officer. "Complex issues ranging from infectious disease, antimicrobial resistance, animal diseases, and environmental degradation require us to work together using a One Health lens to create a healthier, more sustainable future for all. One Health invites all of us to collaborate for the well-being of our entire ecosystem."
People and animals interact more closely than ever before, sharing environments, diseases, and other health concerns. Every year, millions of people and animals around the world are impacted by diseases that spread between them. Changes in climate and land use also affect wild animals' habitats and movements, heightening the risk for spreading diseases. In Washington, One Health partners work together to solve some of these challenges by:
Providing information on actions to protect health during wildfire smoke events for people and animals.
Implementing a statewide plan that addresses the public health threat of PFAS, commonly called "forever chemicals." 
Developing educational materials to improve veterinary knowledge of safe antibiotic use (antibiotic resistance is considered one of our most serious public health threats).
Detecting and responding to cases of highly infectious avian influenza in wild birds, mammals, and domestic poultry.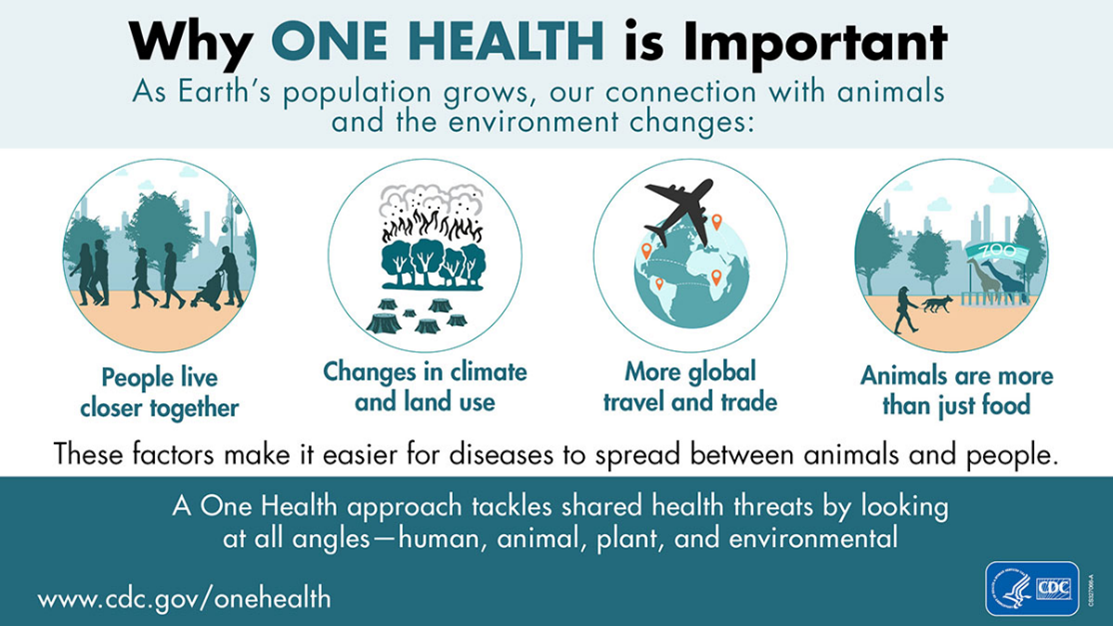 In Washington state, Gov. Jay Inslee signed the One Health Day Proclamation in 2019. This year, the Washington State Department of Health (DOH) published the One Health Needs Assessment Report, which highlights actions to improve public health that include addressing climate impacts, health equity, and environmental justice. "Global and One Health" is one of the five priorities of the DOH Transformational Plan. Additional information about One Health efforts in Washington state is available on the DOH website.
You and your family can celebrate One Health Day by using #OneHealthDay on social media and downloading CDC's One Health coloring book. Learn more about other national and global One Health efforts at One Health in Action.
For further information please contact:
The DOH website is your source for a healthy dose of information. Find us on Facebook and follow us on Twitter. Sign up for the DOH blog, Public Health Connection.
###