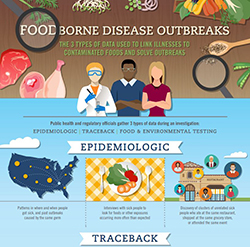 When two or more people get the same illness from the same contaminated food or drink, the event is called a foodborne illness outbreak.
Note: Not all recalls, alerts, and advisories result in an outbreak of foodborne illness. Check recent Food Recalls and Safety Alerts.
Get email alerts
Find out when new outbreak investigations are posted.
Select the Foodborne Illness Outbreak Alert topic.
Investigations
2023

Date Posted
Last Updated
Outbreak Source
Suspected Organism
Scope

Link to full details

11/17/2023
12/04/2023
Cantaloupe
Salmonella
Multistate
Details
7/21/2023
7/21/2023
Restaurant Milkshakes
Listeria
WA state
Details
5/22/2023
5/22/2023
Raw Cookie Dough
Salmonella
Multistate
Details
3/1/2023
3/17/2023
Frozen Strawberries
Hepatitis A
Multistate

Details

about E. coli at Packaged Salads posted on 1/6/2022

2022

2021