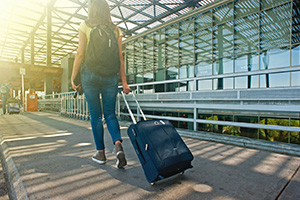 If you plan to travel outside the United States, you may need vaccines to protect yourself against diseases that aren't common in the United States. For more information, visit the Centers for Disease Control and Prevention's Travelers' Health website.
Check with your local pharmacy to ask if they offer travel vaccines. Your local health department may give travel vaccines or refer you to local travel vaccination clinics.
Yellow fever vaccine is only available at a yellow fever vaccine clinic, so call ahead (well in advance of travel) and book your appointment. You can protect yourself from yellow fever by getting vaccinated at least 10 days before travel and taking steps to prevent mosquito bites.
For current health issues at destinations that may impact you, visit the CDC Travel Notices webpage. For questions not answered on the CDC's website or our department website, call 800-CDC-INFO (800-232-4636) TTY 888-232-6348. English and Spanish are available.
Health Issues
Yellow Fever
Find a location near you that gives yellow fever vaccine on CDC's Travelers' Health Yellow Fever Vaccination Clinics webpage.
Yellow fever vaccine is recommended for people age 9 months and older who are traveling to or living in areas at risk for yellow fever in South America and Africa. Some countries require travelers to show proof of yellow fever vaccination. Proof of vaccination is not valid until 10 days after you get the vaccine. Plan to get the vaccine early if you need it. A single dose provides lifelong protection for most people. For more information, go to the CDC's Travelers' Health Yellow Fever webpage.
Polio
Travelers going to certain parts of Africa and Asia may be at risk for polio. Everyone should be up to date with their routine polio vaccination series. Travelers to certain countries also need a one-time adult polio vaccine booster dose. See individual destination pages for vaccine recommendation information.
For more information, go to the CDC's Travelers' Health Polio webpage.
Measles
Measles is highly contagious. Most measles outbreaks in the United States happen because infected travelers bring it back from other parts of the world. There are currently large outbreaks of measles in many countries.
Before international travel, make sure the following people are immunized against measles:
Babies 6 months through 11 months of age should have 1 dose of measles vaccine.
Children 12 months of age or older should have 2 doses separated by at least 28 days.
Unvaccinated adolescents and adults should get 2 doses separated by at least 28 days.
For more information, go to the CDC's Travelers' Health Measles webpage.
Hepatitis A
Hepatitis A is very common in many other countries outside of the United States. Travelers going to Central or South America, Mexico, Asia (except Japan), Africa, and Eastern Europe should get the hepatitis A vaccine.
If you are traveling:
Start the hepatitis A vaccine series early for the best protection.
Babies age 6 months and older should get the hepatitis A vaccine before travel outside of the U.S.
For more information on hepatitis A for travelers, go to the CDC's Travelers' Health Hepatitis A webpage. For more information on vaccines needed for your destination, see the CDC's Travelers' Health website.
Meningococcal Disease
Travelers going to Saudi Arabia to take part in Hajj or Umrah are required to get the meningococcal conjugate vaccine. The meningococcal vaccine is good for about five years. Consider other recommended vaccines if you are going on Hajj or Umrah, and traveling to other destinations.
Going For Hajj or Umrah? (PDF) flyer covers vaccination requirements, how to find a travel clinic, and a chart explaining 10 different vaccines and the 14 diseases they prevent. If you are planning to go on Hajj or Umrah, this flyer has important health information for you.
Travel agencies, clinics giving vaccines, mosques, and other agencies and organizations can share this flyer from the Department of Health to Washington residents planning a pilgrimage or travel to Saudi Arabia. Here is a version of the flyer that can be sent to a print shop to make copies.