The Washington State Department of Health (DOH) aims to provide the most accurate and up-to-date information on your rights and options for safe and legal abortion services.
Abortion, including medication abortion, is legal and protected in Washington state. All 34 abortion clinics that DOH helps fund provide medication abortions. Thirty-one of them offer medication abortion via telehealth.
Mifepristone is a safe and effective drug that's been used in medication abortions by millions of Americans for over 20 years. It is currently the subject of a lawsuit in Texas seeking to remove the U.S. Food and Drug Administration approval of the drug. As of April 21, 2023, the Supreme Court maintained full access to the drug nationally.
Separately, Washington state is leading a group of 17 states and the District of Columbia in a lawsuit to preserve and expand access to Mifepristone. On April 13, 2023, Judge Thomas O. Rice of the U.S. District Court for the Eastern District of Washington issued an order affirming that access to mifepristone remains protected in Washington and the other states that are involved in the lawsuit.
This protection means that mifepristone can be prescribed up to 10 weeks' gestation by any certified provider. It can be obtained through the mail and via telehealth appointments. (Updated April 21, 2023)
For information on mifepristone, visit the U.S. Food and Drug Administration's Q&A page. For information on medication abortion without mifepristone, see this International Journal of Gynecology & Obstetrics article: FIGO's updated recommendations for misoprostol used alone in gynecology and obstetrics.
 For more information on how to find an abortion provider and how to pay for services, visit our FAQ page.
What is Medication Abortion?
Medication abortion, sometimes called "the abortion pill" or "medical abortion," is an option for most people up to about 11 weeks (77 days) of pregnancy (counted from the first day of your last period). You should discuss with your health care provider all available options for an early pregnancy abortion, including instructions on how to take the medication and what to expect.
A pregnancy test is required. For most patients, other testing before a medication abortion, including ultrasound, is not required.
You can access medication abortion through an in-person or telehealth appointment. A prescription for medication abortion can be picked up at the clinic, some pharmacies, or the pills can be mailed to you. The pills can be safely and effectively taken at home.
There are two methods for medication abortion available – a two-drug regimen (mifepristone and misoprostol) and a one-drug regimen (misoprostol only).
Mifepristone and Misoprostol
The most common medication abortion method supported by major medical organizations includes:
Mifepristone—a drug that blocks a hormone needed for pregnancy.
Misoprostol—a drug that causes the uterus to cramp and bleed.
Depending on how far along you are in pregnancy, this regimen works 91–98% of the time.
Learn more about how to use Mifepristone and Misoprostol (reproductiveaccess.org).
Misoprostol Only
If mifepristone is unavailable, then a one-drug regimen using misoprostol only is the recommended medication abortion alternative. This option requires you to take up to three doses of misoprostol vaginally or orally every three hours.
Depending on how far along you are in pregnancy, this regimen works 80–95% of the time.
For more information on medication abortion and what to expect, visit Bedsider.org and PlannedParenthood.org.
Learn more about how to use Misoprostol only (reproductiveaccess.org).
Is Medication Abortion Safe?
Clinical evidence shows that legal abortions—whether by medication, aspiration, or dilation and evacuation—are safe and effective. Serious complications are rare, although the risk of a serious complication increases with the number of weeks you are pregnant.
Leading medical and scientific organizations recognize medication abortion as safe and effective including:
If the first drug in the regimen (mifepristone) is unavailable, these organizations recommend the one-drug regimen (misoprostol only) as a safe and effective alternative for individuals seeking abortion in the first trimester.
Abortion does not increase the risk of breast cancer, depression, or infertility. In rare cases, a continued pregnancy after taking misoprostol can result in congenital abnormalities. You can find more answers to questions about your health and abortion care from ACOG.
What Should I Expect After a Medication Abortion?
Abdominal pain, cramps, and vaginal bleeding are expected during the medication abortion process. Some people also experience fever, nausea, vomiting, or diarrhea on the day they take misoprostol. This may be uncomfortable or unpleasant, but most strong side effects only last a few hours.
Contact your abortion provider if it's been more than 24 hours since taking misoprostol and you are experiencing any of the following symptoms:
No bleeding
Excessive bleeding (soaking two maxi pads per hour for two hours)
Fever higher than 100.4 F (38 C)
Chills
Nausea, vomiting, or diarrhea
Pain that is getting worse or that isn't going away with over-the-counter pain medications
If you are unclear on any of these symptoms or just concerned
You have the right to receive medical treatment for complications after a medication abortion, regardless of the hospital that you go to. You are not required to disclose that you took medication abortion pills or sought out abortion services prior to receiving emergency care.
For more information on your rights during a medical emergency that requires an abortion, visit our FAQ page.
Medication Abortion in Washington by the Numbers
Image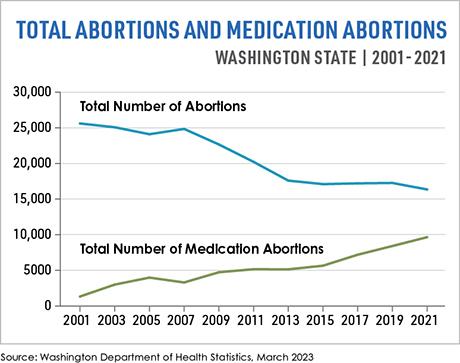 In 2021, 59% of abortions among Washington residents were medication abortions (9,646 out of 16,349 abortions).
Of those abortions, there was a 1.46% complication rate (141 complications out of 9,646 medication abortions). 
Fewer than 0.05% of medication abortions in Washington resulted in a complication that required hospitalization.
For more information on abortion data in Washington, visit the Pregnancy and Abortion Data page and Pregnancy and Abortion Dashboard.