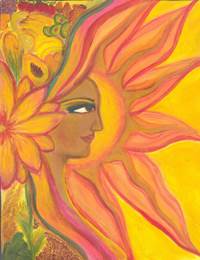 Amor y Salud is a novela about Lourdes, a young Latina, and her journey with her fiancé, Javier. The novela follows the couple as they plan their lives together and their future family.
Lourdes' mom, dad, and sister Isabel help guide her as she learns about what she can do to prepare for children in the future. Lourdes learns about the importance of eating healthy, exercising, taking folic acid, being financially ready, relieving stress, and going to the doctor for a checkup.
When her friend Mercedes has a sudden tragedy, she learns why it's so important to take care of yourself before getting pregnant.
Preconception Health Matters!
Did you know a woman's health even before she gets pregnant affects her future baby?
"Preconception health" means that when you are planning to start a family, you and your partner need to do your best to keep yourselves healthy. This helps ensure that when you do get pregnant your future child will have the best chance of a healthy life before, during, and after birth. It's best to live as healthy as you can even if you are not planning to get pregnant.
Research has shown that Latinas born outside the U.S. (for example Mexico) have healthier pregnancies and babies than Latinas born in the U.S. The reason for this may be differences in culture, lifestyle, and behavior.
Episodes
Episode 1:
Episode 2:
Episode 3:
Episode 4:
Episode 5:
Episode 6:
Episode 7:
Episode 8:
Episode 9:
Episode 10:
Episode 11:
Episode 12:
The Characters
Lourdes: A young Latina living in Washington who is newly engaged to Javiér, her high school sweetheart. She is the star of the novela.
Javiér: Lourdes' fiancé. He is a supportive and loving fiancé who encourages Lourdes to be healthy.
Isabel: Lourdes' older sister. She has children of her own and knows exactly what Lourdes needs to do to have a healthy baby.
Chela: Lourdes' mom. She and her husband Joaquín moved to the U.S. before having Lourdes and Isabel. She wants what's best for her daughter.
Joaquín: Lourdes' dad. He is a caring father who helps Lourdes learn about what she can do before having children.
Mercedes: Lourdes' best friend since high school. Her trials and tribulations help Lourdes learn from her mistakes.
Contact Information
If you have questions, please contact Tiffani Buck at Tiffani.Buck@doh.wa.gov or 360-236-3563.