Welcome Health Care Professionals!
Image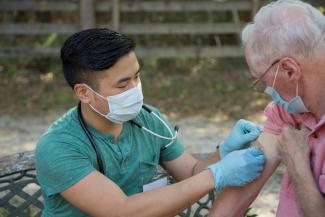 In 2021 the Washington State Department of Health established the Power of Providers (POP) Initiative to help combat the devastation of the COVID-19 pandemic. With thousands of health care providers represented, POP efforts have contributed to our state having one of the highest vaccination rates in the country.
With more work to do, we look forward to having you join our initiative!
Image
Our Vision
Establish partnerships with trusted health care professionals to ensure the health and safety of our communities.
Our Mission
Partner with providers to understand and overcome health care barriers and engage, educate and empower the people of Washington.
Join Today
As health care providers, you are the most trusted sources of health information in your communities. By joining the POP Initiative, you will benefit from consolidated access to the most current health care information, trainings, and materials. We'll save you time and help you tackle challenges such as improving patient communication, combatting misinformation, and making sure your staff has the latest clinical guidance.
Endorsed by our state's top medical organizations, we hope you will join this incredible effort today!
Frequently Asked Questions
Are there any incentives?

There are a large variety of health care providers, including those who don't provide vaccination, who wish to promote the overall health and wellness of Washington residents. The Power of Providers Initiative provides structure, guidance, and talking points for health care personnel who want to help but need support, as well as for personnel who work directly with COVID-19 vaccination efforts.

When you join POP, we will send you a Community Vaccination Partner certificate which you can display in your office, as well as provide you with the latest information and resources including patient handouts, discussion guides and training modules.

Who can join POP?

Any health care professional may join POP! If you're a physical therapist, dentist, clinic administrative staff, or any other health care personnel, all are welcome, and you don't need to be able to vaccinate. Organizations can join the initiative as well.

What if I don't feel comfortable talking to my patients or clients about vaccination?

As trusted sources of information, you may be faced with questions about vaccination even if you haven't in the past. To help you feel prepared and confident, we've curated a variety of materials to make it easier for you to have guided conversations with your patients or clients. As a POP member, you'll have access to these resources and much more.
Please email questions to powerofproviders@doh.wa.gov.