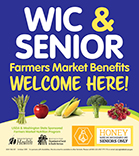 Get ready for a successful season where participants use their checks for fresh, locally grown fruits and vegetables. Start now by:
Talking about Farmers Market and delicious summer produce with your participants—this event only happens once a year.
Contacting your area's Market Manager. They will have information about fun activities at the market and other promotional ideas.
Asking the Market Manager about issuing WIC FMNP checks at the market. Redemption rates go up when checks are issued at the market!
If you have any questions call 1-800-841-1410 or email us at FMNPteam@doh.wa.gov.
Farmers Market Nutrition Program (FMNP) 2022 Local Agency Training
The 2022 FMNP training is in the Learning Center – search for DOH State WIC 2022 FMNP Local Agency Training.
Transcripts in the Learning Center show the completion date for individuals completing the training.
When viewing as a group please use the Training Documentation Form and send the completed form to wawictraining@doh.wa.gov. Add FMNP in the Subject line of the email.
The training is a self-guided PowerPoint. There isn't audio with the training.
All staff in agencies participating in the Farmers Market Nutrition Program 2022 season are required to complete the training before issuing WIC FMNP benefits.
WIC FMNP Benefit Education
Knowing how to use Farmers Market Nutrition Program benefits helps WIC participants successfully shop at local farmers markets and farm stores for locally grown produce and fresh cut herbs. Share the information in these slides to assure accurate and consistent benefit education.
Where can participants use FMNP benefits?
Participants can use WIC FMNP benefits at: