Abortion is legal and protected in Washington state. Abortions have been legal in Washington since 1970, and that has not changed even after the U.S. Supreme Court overturned Roe v. Wade in 2022.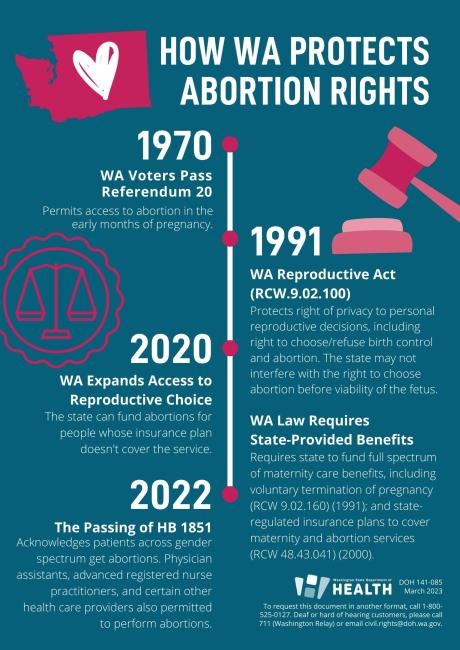 In Washington:
Abortions are legal up to the point of fetal viability (as determined by a provider) or to protect the life or health of the pregnant individual.
No waiting periods are required to access an abortion.
People of any age have the right to independently consent for their own abortion care – parental involvement is not required.
You do not have to be a state resident nor a citizen of the United States to get abortion services here.
A physician (MD), osteopathic physician (DO), physician assistant (PA), advanced registered nurse practitioner (ARNP), or certified nurse midwife (CNM) trained in abortion care may provide an abortion.
State-regulated health insurance plans that cover maternity services must also cover abortion services.
Public hospitals that provide maternity benefits, services, or information must also provide substantially equivalent abortion benefits, services, and information.
The state funds abortion care for clients with health plans through Providence Health, which invokes a religious objection to covering abortion services. See our Increasing Access to Reproductive Choice page for specifics on how to obtain this coverage.
If you would like information about accessing abortion services in Washington, please see the Frequently Asked Questions page.
For information specifically about medication abortion, please visit our Medication Abortion Access in Washington page.
Abortion Providers in Washington State
There are 46 clinics that provide abortions in Washington. The Department of Health helps fund six agencies that have 34 of those clinics:
The Northwest Abortion Access Fund and the National Abortion Federation maintain lists of abortion providers in Washington. You can also visit Abortion Finder to locate abortion providers nationally. Other resources for finding abortion providers include ineedana.com and Aid Access.
For more information on how to find an abortion provider and how to pay for services, visit our FAQ page.
Abortion by the Numbers
Abortion is a common outcome of pregnancy. Data show that roughly 1 in 4 women will have an abortion by age 45.
People who seek abortion and people who give birth are often the same people at different points in their reproductive lives. Nationally, more than half of people (59%) who have abortions have previously given birth.
Washington's abortion rate has dropped every year since 2009.
In 2021 there were 15,968 abortions among Washington residents, out of 100,340 reported pregnancies.
In addition to abortion among Washington residents, in 2021, 998 abortions were provided to non-residents who traveled from out of state. Most of those people came from Idaho (407), Oregon (330), and Alaska (51). Overall, people seeking abortion in Washington came from 41 states, as well as Guam and Canada   
2022 data is not yet complete.
For more information on abortion data in Washington, visit the Pregnancy and Abortion Data page and Pregnancy and Abortion Dashboard.