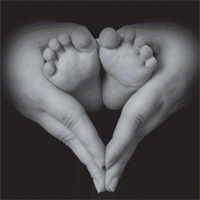 PRAMS is a survey of new mothers conducted by Washington State Department of Health and the Centers for Disease Control and Prevention (CDC). PRAMS gathers information from mothers about their experiences before, during, and after their most recent pregnancy. PRAMS is the only source of this information in Washington.
Why should I participate?
Only a few women are randomly selected each month from birth records. PRAMS survey answers give us information about access to health care, quality of health care, and other circumstances that may affect the health of the mother and her new baby.
How are my answers used?
Your answers are combined with those from other women (no identifiable data is released). This information is used by local and State agencies to plan maternal and infant health programs and policies that help pregnant women. Here are examples PRAMS data use.
What Washington Mothers Say. . . . . .
"Thank you for allowing me to share my experience to help others."
"I had a great experience during my time of pregnancy and received the best healthcare I've had in my lifetime. Although I lost my job early in my pregnancy, I am so thankful that I was able to receive insurance through the state of WA."
"This project is a wonderful idea and hope my input can help other mothers and their children. If you need any further help, please feel free to contact me. I would love to help out in any way."
"There was a lot of talk about Post-Partum Depression, which was great. I would have liked to see the hospital (or other service) offer a Post-Partum Depression support group for new mother's that is open /acceptable to bring newborns to."
"I really appreciate this kind of research for all mothers and babies."
For information on Washington PRAMS, please contact:
PRAMS Coordinator
Washington State Department of Health
Prevention and Community Health
PO Box 47835
Olympia, WA 98504-7835
(360) 236-3576
E-mail: WAPRAMS@doh.wa.gov
For more information on PRAMS, please see the CDC PRAMS website