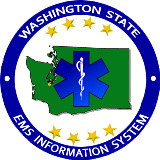 WEMSIS Home | WEMSIS log-in | WEMSIS brochure | WEMSIS vendor: ImageTrend
Active agency reporting statistics as of November 8, 2023
Overall EMS Reporting

EMS Agencies Reporting to WEMSIS - 324 (69%)

Total number of EMS Agencies - 470

Estimated total response volume captured in WEMSIS - 92%
Transport Agencies

Active Transport Agencies Reporting to WEMSIS - 255 (83%)

Total number of Active Transport Agencies - 306

Estimated transport response volume captured in WEMSIS - 96%
Non-Transport Agencies

Active non-Transport Agencies Reporting to WEMSIS - 69 (42%)

Total number of Active non-Transport Agencies - 164

Estimated non-transport response volume captured in WEMSIS - 81%
WEMSIS Reports
WEMSIS Data quality report
WEMSIS Data Quality Report

The purpose of the WEMSIS data quality report is to engage data providers and stakeholders in our efforts to improve data quality. This document provides a statewide level report on the completeness of WEMSIS data elements that the WEMSIS assessment staff has identified as priority data elements. We anticipate to update and post this completeness report on a quarterly basis so that we can monitor data quality improvement over time.
Opioid Overdose Surveillance Report
The Emergency Medical Services Opioid Overdose Surveillance Report provides monthly information on opioid related responses by ambulance and aid services who submit data to WEMSIS.
Additional Reports
COVID-19 EMS Impact, January through July 2020

WEMSIS HIE Roadmap – A guide for future implementation (December 2021)

Washington State Annual EMS Opioid Report, 2021