Frequently Asked Questions About Flu (Influenza) Vaccine and Pregnancy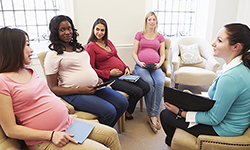 Are you pregnant or planning to become pregnant this year? Here's what you need to know to protect yourself and your baby from this serious, and potentially deadly, virus.
Why do I need a flu shot during pregnancy?
Normal changes in your immune system during pregnancy may increase your risk of flu complications. The flu vaccine is the best protection against the flu for you and your baby. Pregnant people are at high risk for severe illness, hospitalization and death if they get the flu. If you get the flu while pregnant it can also cause serious problems for your baby including premature labor and birth defects.
Studies show that getting a flu shot while pregnant can help protect your baby from the flu for up to six months after birth. Breastfeeding after the baby is born helps strengthen their immune system but is not a replacement for getting vaccinated.
When should I get the flu vaccine?
Get the flu vaccine as soon as it is available in your area. The flu vaccine (PDF) (CDC) is proven safe, effective, and beneficial to you and your baby at any stage of pregnancy.
When you get a flu vaccine during pregnancy, you make protective antibodies which are transferred to your baby. These antibodies protect your baby against the flu until they can get the vaccine at 6-months of age. Breastfeeding your baby also helps strengthen their immune system but is not a replacement for getting vaccinated.
It is equally important that other people in your household are vaccinated against the flu during your pregnancy.
I am already pregnant. Is it safe to get the flu shot?
Yes. It is safe to get the flu vaccine at any stage before, during or after pregnancy. The CDC and the American College of Obstetricians and Gynecologists (doctors who specialize in caring for people during pregnancy) recommend the vaccine for pregnant people.
You should also get the whooping cough vaccine (Tdap) during the 3rd trimester of each pregnancy. Check with your doctor, nurse or clinic about which vaccines you may need. For more information visit our whooping cough vaccine page.
When can my baby get a flu vaccine?
Babies can be vaccinated against the flu starting at 6 months of age, so it is important that your household get vaccinated to help protect baby until that time. Children under 9 years old may need two doses annually for best protection. Check with your doctor, nurse or clinic about other recommended vaccines (CDC) your children may need.
Can I get the flu from the flu vaccine?
No. The flu vaccine cannot give you the flu. However, it takes about 2 weeks after you get the vaccine for the antibodies to protect you against the flu virus. During those two weeks, it is possible to contract the flu from another person.
Can I get a preservative-free flu vaccine?
Yes. Preservative-free flu vaccines are available. Washington State law requires that pregnant women and kids under age three be given vaccines that are preservative-free (or thimerosal-free). For more information, visit the CDC's Frequently Asked Questions About Thimerosal page.
Is there a flu vaccine that pregnant people should NOT get?
Nasal spray vaccine (also called LAIV) is not recommended for pregnant people. Check with your healthcare provider to explore the best option for you.
How serious is the flu if I am pregnant?
The flu is unpredictable and the disease can be severe, especially for pregnant people, older people, young kids, and people with certain health conditions. These groups are at greater risk for serious complications if they get the flu, including:
Pneumonia
Ear infections
Sinus infections
Dehydration
Worsening of chronic medical conditions (asthma, congestive heart failure, or diabetes)
If you get the flu while you are pregnant, you have a higher risk of complications like preterm labor and preterm birth. You are also more likely to be hospitalized and have an increased risk of dying if you get the flu while you are pregnant. For more information, visit the American College of Obstetricians and Gynecologists flu and pregnancy page.
What else can I do to protect myself from getting the flu?
Ask family, friends and caregivers who spend time with you and your baby to get a yearly flu vaccine to best protect your household. In addition, follow these easy steps:
Cover your cough/sneeze with your sleeve or tissues
Wash your hands with soap and warm water often
Disinfect surfaces and objects that are frequently shared (doorknobs, counters, faucets, etc.)
Avoid frequent touching of your nose, mouth and eyes
Stay home from work or school if you show symptoms of being ill
Wear a cloth face covering when you are out in public
What happens if I still get sick while pregnant?
While the flu shot is the most effective way to prevent infection it isn't a guarantee you won't get sick. If you do show symptoms of the flu, limit your contact with others and contact your healthcare provider immediately. Your doctor should prescribe antiviral medication (PDF) (CDC) if you are suspected of having the flu.
Where can I find more information about vaccines for me and my family?
There are a lot of dangerous myths and misleading opinions on the internet about vaccines. The following resources are available for accurate, reliable information for you and your household. These help separate fact from fiction:
If you need help finding a health care provider, or if you don't have health insurance, call the Family Health Hotline at 1-800-322-2588 or visit ParentHelp123 website.