Newborn Screening is a Department of Health program that identifies babies born in Washington State with rare congenital conditions. A newborn screening specimen is obtained by collecting drops of blood from a baby's heel onto a special filter paper card.
The standard of care in our state is for each infant to have two newborn screening specimens: the first 18 to 48 hours after birth, and the second 1-2 weeks after birth.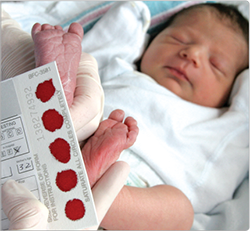 Our work
Each year our laboratory performs nearly 12 million tests on more than 172,000 specimens from about 85,000 newborns. From this work, approximately 200 infants with one of the disorders on the screening panel are identified each year and receive treatment early in life.
This work is supported entirely by a one-time fee for each baby screened. The Office of Newborn Screening also provides information and training to parents and health care providers about newborn screening.
Specialized treatment products
The Newborn Screening Program also distributes specialized metabolic treatment products (i.e., PKU formula) that are central to preventing profound damage caused by some of the conditions on the newborn screening panel. We do this to assure reliable and consistent access to these unique, essential products.
The costs of this service are recovered through billing the recipient's insurance, Medicaid, or in a few cases, the recipient.
History of Newborn Screening in Washington State
| | |
| --- | --- |
| 1963 | Voluntary screening of phenylketonuria (PKU). |
| 1967 | Newborn Screening Statute (RCW) created to promote screening of infants. |
| 1976 | Newborn Screening Statute revised to mandate screening for all hospital births and authorized the State Board of Health to adopt rules to carry out intent of statute (Chapter 246-650 WAC) and add screening conditions. |
| 1978 | Added congenital hypothyroidism. |
| 1984 | Added congenital adrenal hyperplasia. |
| 1991 | Added sickle cell diseases & hemoglobinopathies. |
| 2004 | Added biotinidase deficiency, galactosemia, homocystinuria, maple syrup urine disease, and medium-chain acyl-CoA dehydrogengenase deficiency. |
| 2006 | Added cystic fibrosis. |
| 2008 | Added isovaleric acidemia, glutaric acidemia type I, methylmalonic acidemia, propionic acidemia, long-chain L-3-OH acyl-CoA dehydrogenase deficiency, trifunctional protein deficiency, very long-chain acyl-CoA dehydrogenase deficiency, citrullinemia type I, argininosuccinic acidemia, carnitine uptake defect, multiple carboxylase deficiency, beta-ketothiolase deficiency, 3-hydroxy-3-methglutaric aciduria, tyrosinemia type I. |
| 2014 | Added severe combined immunodeficiency. |
| 2014 | Newborn Screening Statute (Chapter 70.83 RCW) revised to mandate screening for all births (including out-of-hospital births), modify required screening and transit timeframes, and publish annual compliance report. |
| 2018 | Added X-linked Adrenoleukodystrophy. |
| 2019 | Added glycogen storage disorder type II (Pompe) and mucopolysaccharidosis type I |
| 2020 | Added spinal muscular atrophy |
Newborn Screening Law
The Newborn Screening law (RCW 70.83.020) was last amended during the 2014 legislative session.
All babies born in Washington must be screened - not just babies born in hospitals (parents may still refuse based on religious beliefs)
The initial screen (or signed refusal) must be collected no later than 48 hours following birth
The initial screen (or signed refusal) must be delivered to the State Laboratory within 72 hours of collection (excluding Sundays and Thanksgiving day)
The Department of Health must publish an annual report online of each hospital's compliance with the new requirements
For all babies requiring further diagnostic testing, primary care providers are required to report to Newborn Screening the date they notified the parent/guardian.