Address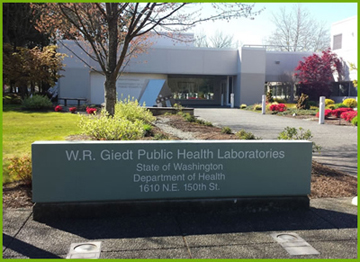 Washington State Newborn Screening Program
1610 NE 150th Street
P.O. Box 55729
Shoreline, WA 98155
E-mail
NBS.Prog@doh.wa.gov Phone
206-418-5410
Toll Free: 1-866-660-9050

Fax
206-363-1610
Hours
Monday-Friday,
8:00 a.m. - 5:00 p.m.
Frequently Requested Information
Result request? Call or fax us with mom's last name and baby's date of birth

Need ID#s for screening cards? Visit

ID# Directories

Need more screening cards or pamphlets?

Order collection cards

Have questions about Newborn Screening disorders? Visit our

Disorders page

Need sickle cell results for college athletics? Visit our

Parents' Page
Keep in touch! Sign up for updates
Sign up to receive important newborn screening announcements, such as holiday specimen receiving hour reminders, program changes and updates, annual hospital compliance statistics, quarterly bulletins, and more. It is part of our ongoing efforts to enhance communication, increase program efficiency, and improve the quality of our services. The list is set up as an announcement service, rather than a discussion forum.