Lab location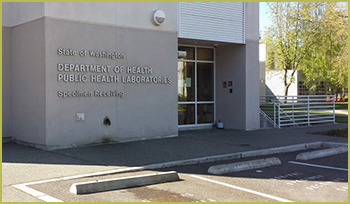 The Newborn Screening Laboratory is located in the Public Health Laboratories at:
1610 N.E. 150th St., Shoreline, WA 98155.
The specimen receiving area is on the east side of the building next to the loading dock. You will see "Department of Health Public Health Laboratories Specimen Receiving" on the wall next to the entrance (pictured at right).

For complete shipping guidelines please read the Drying and Shipping Specimens section of our Health Care Provider Manual (PDF).
Receiving hours
Monday through Friday: 7:00 a.m. – 5:00 p.m.
Saturday and Holiday (except Thanksgiving): 8:00 a.m. – 12:00 p.m.
Sunday and Thanksgiving: Closed
Newborn screening specimens received by 10:00 a.m will be set-up for testing the same day.
For Saturday and holiday courier deliveries, ring the bell located at Specimen Receiving and staff members will answer the door. If no answer, call the phone number posted on the door for assistance.
If you have clinical concerns about an infant, please call our office at 206-418-5410 or Toll Free 1-866-660-9050 to arrange for STAT specimen processing.
2022 Holiday Schedule
Monday, July 4th – Independence Day
Monday, September 5th – Labor Day
Friday, November 11th– Veteran's Day
Thursday, November 24th – Thanksgiving Day
Friday, November 25th – Native American Heritage Day
Sunday, December 25th – Christmas Day
Monday – December 26th– Christmas Observed
Sending Specimens via Courier (Recommended)
The state does not provide a courier service for NBS specimens.
Please use a private courier or a commercial carrier such as FedEx, UPS, etc. Ensure your courier is aware of our receiving hours.
For Saturday and holiday deliveries, ring the doorbell for service. If there is no answer, call the phone number posted on the door.
Include a list of all specimens submitted in the package.

Provide the following information on the specimen list:

Mother's name

Baby's date of birth
Baby's medical record number
Specimen barcode number (found on bottom right corner of the specimen card)
Name of your facility and contact information in case there is an issue.

Place one specimen per NBS envelope provided.

Combine envelopes into the larger courier envelope/package.

Address package to:
WA Public Health Laboratories


Attn: Newborn Screening
1610 N.E. 150th St.
Shoreline, WA 98155
Sending specimens via USPS
Use the provided self-addressed envelope.

Standard first class postage is required.

Send one specimen per envelope.
If sending multiple specimens:

Place one specimen per envelope provided
Combine envelopes into larger envelope

Address to:
Newborn Screening
Washington State Department of Health
P.O. Box 55729
Shoreline, WA 98155-0729
Questions?
Email us with your questions or concerns, or telephone us at 206-418-5410 or Toll Free 1-866-660-9050.