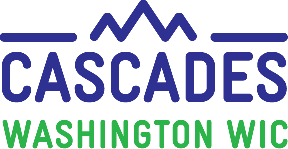 We're here to support you as you use the Cascades System.
Cascades Support Line
Call Cascades Support when you need help with:
Cascades–including using the sandbox.
Transfer-in questions and issues.

When you can't reach an out-of-state clinic to get participant transfer information, the USDA/FNS has "VOC (transfer) contact" information for all states and US territories. Visit www.fns.usda.gov/wic/wic-contacts and click on a specific state for a phone number to get transfer information.

SAW account setup.
1-800-841-1410
Choose option 3, then option 2
Hours
Monday–Friday 8am–5pm (through lunch)
Voicemail available after-hours
Email: Cascades.Support@doh.wa.gov
IT Service Desk
Call the WIC IT Service Desk when you need help with:
Network logon
WIC computer equipment.
Internet connections.
1-888-457-2467
Monday–Friday 7 am–5 pm (through lunch)
Email: WIC.helpdesk@doh.wa.gov (non-urgent technical issues)
WIC Foods Support
When participants think a food should be approved and they can't buy it they can do one of the following:
Please include the following information:
Store name and location.
Food item name.
Package or container size.
UPC code (12 digit number listed under the food item barcode).
WIC Card Line
Call the WIC Card Line at 1-844-359-3104 to:
Set or change the Personal Identification Number (PIN) for a WIC card.
Report a lost, stolen, or damaged WIC card.
Unlock the card if the PIN was entered incorrectly four times in a row.
Check what WIC foods are available.
Cascades Solutions
Cascades Solutions provide answers to frequently asked questions of the Cascades Support team. We'll add more documents to this section, as we identify more solutions.
Cascades Steps
Cascades Steps are tools to help staff complete important tasks in the Cascades system. If you have policy questions about these tasks, please check the Policy and Procedure page or contact Cascades Support at the state WIC Office.
You can also use these Cascades Tips to help clarify processes in your day-to-day Cascades work and when we discover new, helpful information.
Getting Support & Cascades Troubleshooting
Certification & Subsequent Certification
Breastfeeding & Peer Counseling
Prescribe Food & Issue Benefits
Formula & Medical Documentation
Replace Benefits
Scheduling & Master Template
Foster Care & Transfers