Newborn Screening Card Ordering System
Use the Newborn Screening Card Ordering System to complete your next order. Please use Chrome or Edge for your browser.
Newborn Screening Card Ordering System
Features include:
viewing order details
real-time status updates
tracking information
confirmation emails (Chrome and Edge compatible only).

Order your materials, including:
newborn screening collection kits (with or without the pink hearing insert)
blue hearing re-screen cards
educational pamphlets and extra envelopes.
If you are a new facility or have questions, please contact our program.
Use the NBS Card Ordering System Tutorial (PDF) for assistance.
What is included?
One specimen collection card (optional pink hearing insert)
One return envelope addressed to the Newborn Screening Laboratory
One Newborn Screening educational pamphlet in English. Other languages available here.
Individual hearing re-screen cards (blue) are also available upon request.
What do collection cards look like?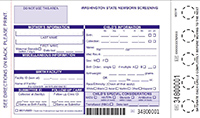 Newborn Screening Collection Kits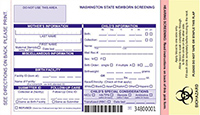 Kits with Pink Hearing Insert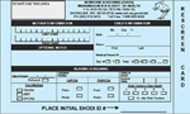 Blue Hearing Re-screen Card
How do I fill out the cards?