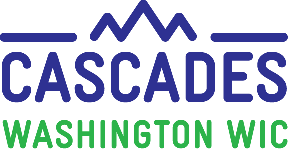 We created or updated the following materials to align with the Cascades system and WIC Cards. All forms and materials are in PDF format unless otherwise noted.
Individual Authorization to Release WIC Information (PDF)
Temporary Certification for Missing Proof of Income Form - View all languages
Statement of Income Form (Affidavit for Income) - View all languages
This form was previously called the Grace Period for Income Form.
No Proof of Identity Form (Affidavit for Identity) - View all languages
No Proof of Residency Form (Affidavit for Residency) - View other languages
Breast Pump Release of Liability Form - View other languages
WIC Card Materials
WIC Mailed Card Letter - View all languages
Letter clinic staff send when mailing the WIC Card to a participant.
Handout for participants with information about shopping with a WIC Card and reading the WIC receipt.
Shopping with Your WIC Card (PDF) | Shopping with Your WIC Card Spanish (PDF)
Visual tool for WIC staff to use when sharing information with participants about using WIC Cards at the store.
Tips for Stand-Beside Card Readers - View all languages
Information for WIC shoppers using small grocery stores with stand-beside card readers for purchasing WIC foods.
Cascades WIC Services Worksheets
WIC Services Worksheets guide staff in recording information for WIC Certifications, Health Assessments, and other appointments when Cascades is unavailable. Staff follow the Guidelines for Using the Cascades WIC Service Worksheets (PDF) to:
Record participant information while Cascades is unavailable.
Enter participant information into Cascades from the worksheet.
Scan the worksheets and any attached forms into Cascades, once the event is over.
Use the Cascades WIC Services Worksheet for the participant's category:
Staff Tools
Staff tools provide information, tips and techniques for staff to follow Washington WIC policy and provide participant-centered services.
Cascades Steps
Cascades Steps provide detailed instructions to complete important tasks in the Cascades system. If you have policy questions about these tasks, see the Cascades Policy & Procedure page, or contact Cascasdes Support at the state WIC Office. If you have additional questions about using Cascades, check the Cascades Support page.
We're also sharing these Cascades Tips (PDF) to help clarify processes in your day-to-day Cascades work and when we discover new, helpful information.
We provided a Cascades Clinic Notebook to staff during Cascades Basic Training. You can use this Cascades Clinic Notebook Table of Contents (PDF) to see what's new or revised and use the links to access the most current Staff Tools, Cascades Steps and Transition Guidance.