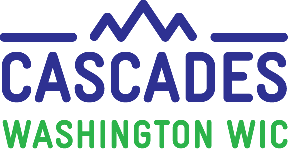 The following materials were developed to help staff work in the Cascades system, issue WIC Cards, and provide food benefits. 
Staff Tools
Staff tools provide information, tips and techniques for staff to follow Washington WIC policy and provide participant-centered services.
Cascades Steps
Cascades Steps provide detailed instructions to complete important tasks in the Cascades system. If you have policy questions about these tasks, see the Cascades Policy & Procedure page, or contact Cascasdes Support at the state WIC Office. If you have additional questions about using Cascades, check the Cascades Support page.
We're also sharing these Cascades Tips (PDF) to help clarify processes in your day-to-day Cascades work and when we discover new, helpful information.
We provided a Cascades Clinic Notebook to staff during Cascades Basic Training. You can use this Cascades Clinic Notebook Table of Contents (PDF) to see what's new or revised and use the links to access the most current Staff Tools, Cascades Steps and Transition Guidance.