Measles is an extremely contagious disease. It can be serious and even deadly, especially for young children. There is a safe and highly effective vaccine to prevent measles. Measles vaccination is recommended for everyone age 1 year and older. Measles vaccine is required to attend school and child care in Washington state. It is also required for staff and volunteers working in a child care center or preschool. In the United States, measles vaccines called "MMR" and "MMRV" are available.
Measles virus travels through the air. You can get measles if you go near someone who has the virus because the virus stays for up to two hours in the air of a room where a person with measles has been.
You can catch measles from an infected person as early as 4 days before they have a rash and for up to 4 days after the rash appears.
Almost everyone who is not immune will get measles if they are exposed to the measles virus.
Foreign travel or exposure to foreign travelers increases the risk for measles.
Measles, also called rubeola, is the most deadly of all childhood rash/fever illnesses. It is a leading cause of death among children worldwide. The U.S. Centers for Disease Control and Prevention has information about measles outbreaks nationwide.
The best protection against measles is to get vaccinated. The measles vaccine is safe and highly effective. Make sure to protect yourself and your children with the measles, mumps, and rubella (MMR) vaccine.
Measles Symptoms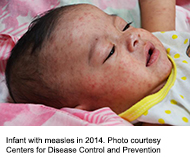 Measles starts with:
fever
diarrhea
coughing
runny nose
red and watery eyes
tiredness
After a few days, a rash begins, which usually starts on the face and can spread over the entire body.
In some people, especially people who are have chronic medical problems, are pregnant, or are malnourished, measles also leads to serious problems such as pneumonia, brain damage, blindness, deafness, and death.
Measles usually lasts 7 to 10 days.
About the MMR Vaccine
The MMR vaccine protects against measles, mumps, and rubella. Another vaccine, called MMRV, protects against those three diseases and chickenpox as well. Measles-only vaccine is not available in the United States.
Kids should get two doses: One dose between ages 12 and 15 months, and the second between ages 4 and 6 years. If your family will be traveling outside the United States, your baby can get an extra dose at age 6 to 12 months.
Adults born after 1956 may need a dose of MMR if they have not already had it.
Talk to your health care provider to get the MMR or MMRV vaccine for your children. Washington provides MMR and MMRV vaccines at no cost for kids through age 18, and they're available from health care providers across the state. Providers may charge an office visit fee and a fee to give the vaccine, called an administration fee. However, if you can't afford the administration fee, you may ask your provider to waive it.
If you or your child has had MMR, MMRV, or another measles vaccine before but you don't have the medical record showing the vaccination, you or your child may need to repeat a dose of MMR or MMRV. It is safe to receive extra doses of the vaccine, even for people who have had it before. 
In Washington state, workers and volunteers in child care, ECEAP, and Head Start facilities are required to be vaccinated against measles.
If you don't want another dose of measles vaccine, you can ask your doctor to test to see if you have immunity. This is called an antibody titer. Insurance may not cover this test.
Watch Making a Disease Disappear (a TED Talk at the CDC)
Stand Together to Protect Us All: Jaxon's Story
Paula Abalahin of Port Orchard, Washington, shares her son Jaxon's story:
 
My son Jaxon got measles when he was 7 months old, too young to get immunized. He got better, but five years later he started having seizures. He lost the ability to swallow, speak, and walk. After suffering greatly, Jaxon died a few years later. His condition was caused by the measles virus.
"We learned that, even though there is an effective vaccine, measles is still a leading cause of death among young children worldwide. And in our community, parents are not fully immunizing their children, which puts them at risk to get and spread measles and other terrible diseases. I hope my story can help prevent another child from experiencing what my son went through."
Measles Resources
For Parents and the Public
For Local Health Jurisdictions
For Providers
For Schools and Child Cares
Measles Information in Other Languages
Measles Basic Information Flyer
Other Items
Measles Multimedia
More videos, infographics, posters, stories, and other media items